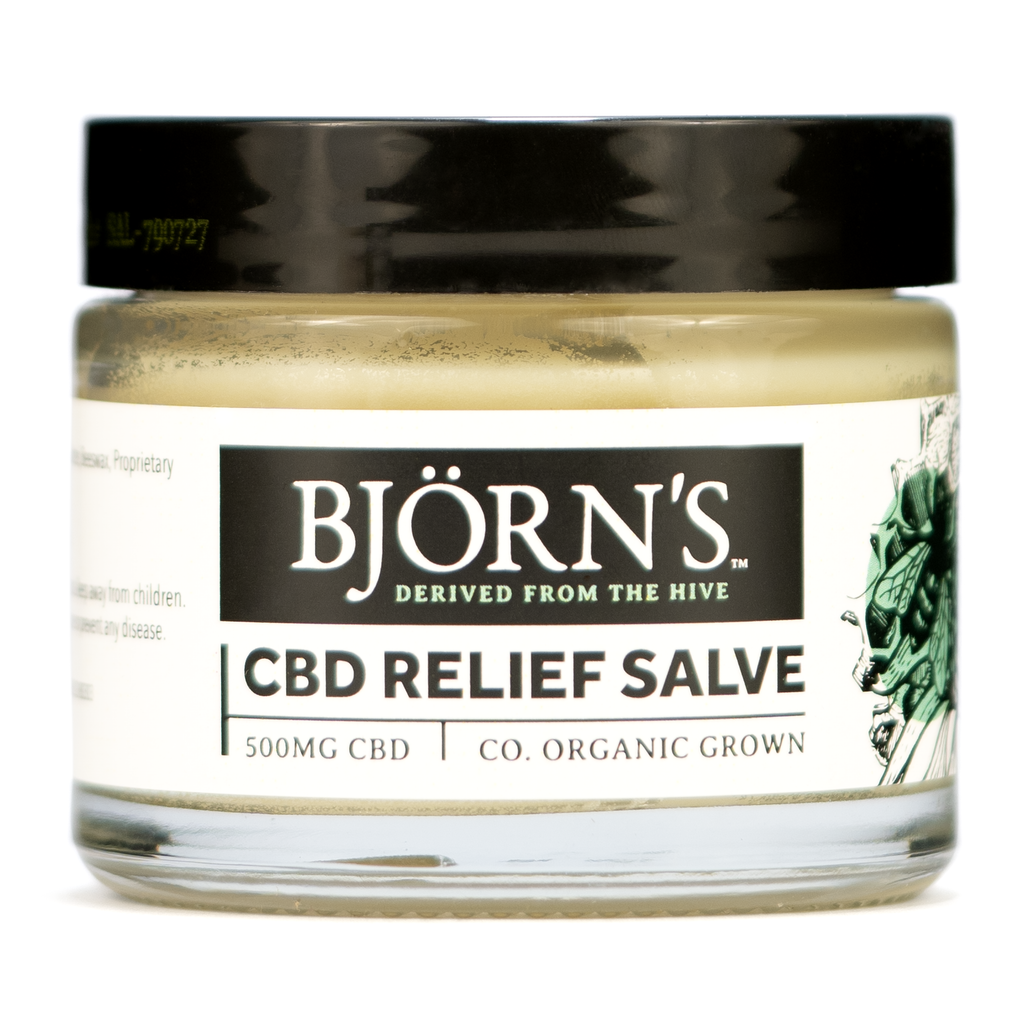 Honeybee Hemp CBD Relief Salve - 500 mg
This CBD Relief Salve contains 500 mg of CBD and is specially formulated to heal as it relieves. Our all-organic formula contains only the most essential ingredients. It has a soothing blend of coconut oil, shea butter, cocoa butter, and beeswax to moisturize and seal the skin, locking moisture in. Of course, there is also our proprietary cultivars hemp extract and a few drops of essential oil to enhance the scent. That's it!

This CBD Relief Salve can be applied to delicate areas like the lips and is great on elbows, knees, toes, and ankles to moisturize and provide soothing relief. It's perfect for day-time or night-time use and gentle enough to be applied multiple times a day. 

Suggested Use: For external use only. Apply liberally for joint and muscle pain or to moisturize dry skin. Use topically and massage deeply into the skin. Discontinue use if irritation occurs.

Ingredients: Organic Virgin Coconut Oil, Organic Shea Butter, Organic Cocoa Butter, Beeswax, Organic Proprietary Cultivars Hemp Extract, Organic Essential Oils

All of the hemp is grown by one grower on the front range of Colorado. Growing with pride and love in the USA. We never import "hemp paste," as many producers do, which can have questionable quality and efficacy. And none of our hemp is GMO. Our grower adheres to strict organic practices (and the farm is USDA Organic) because we feel this is the right way to grow hemp and the best for you.
We make no health claims regarding this product. The best way to learn about the effectiveness of hemp and CBD is to read about our customer's experience or to try it for yourself. Our products contain 0.3% THC or less. You can read our customer testimonials here. 
For external use only. Discontinue use if irritation occurs. Keep away from children. These products are not intended to diagnose, treat, cure or prevent any disease.
---
---
More from this collection