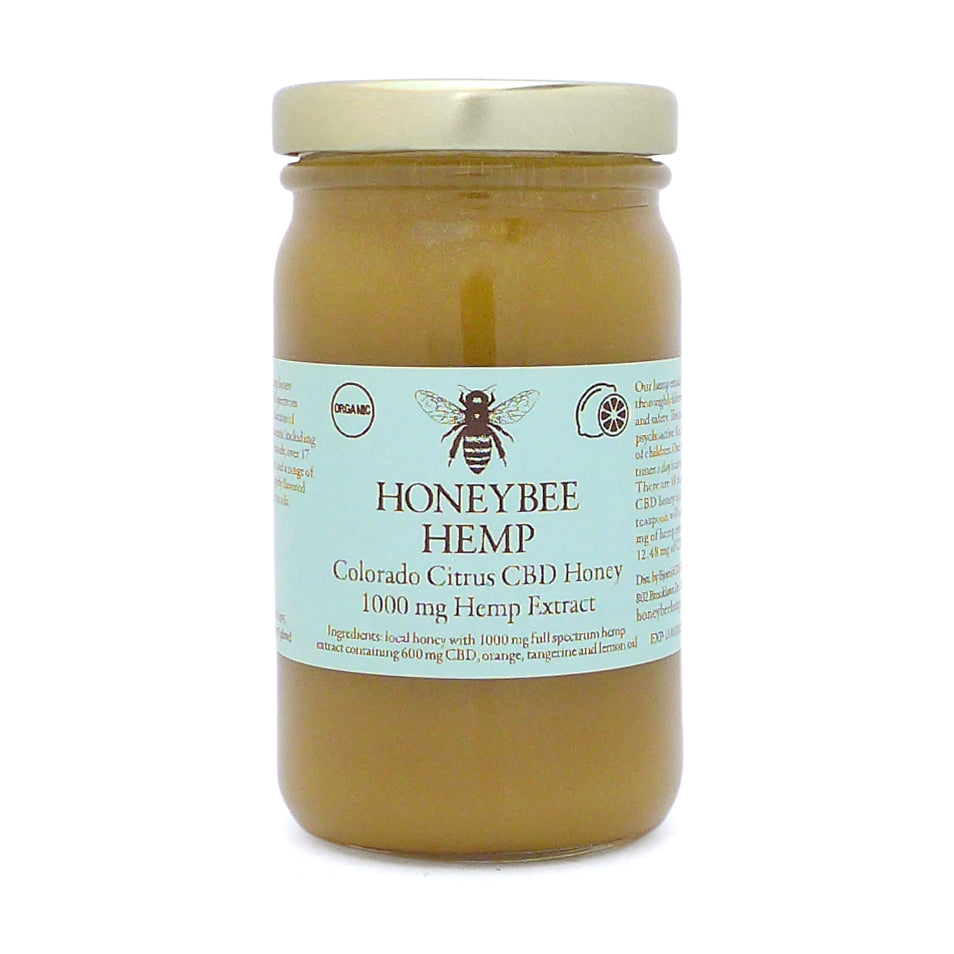 Honeybee Hemp Citrus Honey - 1000 mg
Honeybee Hemp Citrus Honey is a premium product made with full-spectrum hemp extract, which contains tons of beneficial components, including accessory cannabinoids, over seventeen different terpenes, a range of bioflavonoids, and of course, CBD. 
This Citrus Hemp Honey is lightly flavored with pure orange, tangerine, and lemon oil. The citrus oils meld perfectly with the herbal taste of the hemp extract and the sweetness of the honey. This honey is blended for those who prefer less hemp flavor. 
We guarantee a minimum of 1000 mg hemp extract, containing at least 600 mg of pure CBD per jar of honey. Our hemp extract has been thoroughly lab tested for content and safety. This product is not psychoactive. 
Honeybee Hemp Honey is great for people who enjoy creamed or whipped honey. This whipped honey is smooth, spreadable, and possesses a texture that is not too thick. This honey will never change consistency as the natural crystallization process has already taken place. Of course, all beneficial enzymes, amino acids, and pollens found in honey are intact.
We make no claims about the effectiveness of hemp honey to help with pain, illness or other ailments. The best way to learn about the effectiveness of CBD is to read more on our customer's experience with our CBD products or to try it for yourself. Check out our customer testimonials here. 
Hemp Honey Ingredients: pure locally harvested honey with 1000 mg full spectrum hemp extract containing 600 mg CBD
Hemp Honey Suggested Use: Take 1/2 - 1 whole tsp. 1-3 times per day or as directed by your health care provider. 
All of the hemp we use is grown by one grower on the front range of Colorado. He grows with pride and love in the USA. We never import "hemp paste" as many producers do, which can have questionable quality and efficacy. None of our hemp is GMO. Our grower adheres to strict organic practices because they feel this is the right way to grow hemp.  Our products contain 0.3% THC or less.
Try some Honeybee Hemp Honey today!  
10.5 oz jar
If you have a medical condition or take prescription drugs please consult your physician before use. Not to be used during pregnancy or nursing. These products are not intended to diagnose, treat, cure or prevent any disease. Use as directed. Keep out of reach of children. 
---
---
More from this collection